Current team:
MK7tester
- Project Leader / Level Designer
Aurum
- Level Designer / World Map Designer
MTMM
- 3D Model Artist
kosciuska
- Level Designer
xkitten
- Level Designer
PaperplateismGuy
- Level Designer
Jako
- Level Designer
What is Super Mario Galaxy MORE?
Well, no i'm not talking about the beta version of Galaxy 2. I'm talking about an entire hack of World S in Super Mario Galaxy 2 which focuses on bringing MORE content to the player, of course.
-New galaxies, with some new concepts, and some reused concepts with new ideas
-New world S map
-New stars to collect
The hack will be small on scale, unlike Super Mario Galaxy 2.5 and NMG to reduce ambition of the chance of cancellation. What does this mean? It means that it will have a bigger focus on using existing objects and such in new ways rather than creating entirely new models and objects. This is a hack that could be easily pulled off in just a few months, I just need YOU and YOUR HELP. Along with Neo Mario Galaxy, this is one of Super Mario Galaxy's
LAST
chances to finally have a proper hacking scene again, so please, if you love hacking this game, consider joining the project.
I'd very much like to make a trailer, but I need a proper team and a bit more stuff done!
I believe with just enough determination, we can do it, and we can create something we will be known for! If you are willing, please reply or send me a new PM!
If you are interested, here are my ideas for the Galaxies and their corresponding missions so far, I have been planning this for a while, and I have also thought about the World Map design, but I would greatly appreciate help and feedback with both the Galaxies and World Map design.


NOTE: Not all of the images are what the Galaxy looks like/will look like, just an idea of the general concept.
Breezy Byway Galaxy
New galaxy based on Gusty Garden.
Lots of Floaty Fluff sections and Cloud Flower platforming
Breezing Through the Stratosphere
Stratosphere Speed Run
---
Pixel Platforms Galaxy
A Galaxy with the same concept as Mario Squared,
except this time you'll go through eight different pixel planets
A Journey Through 8 Bits
(Secret) Burn the Hammer Bro
---
Jolly Roger Galaxy (0.1% Complete)
Remake of Jolly Roger Bay from Super Mario 64, the secret star also involves Mario finding his way to the secret aquarium from the same game. I have started work on importing the model from SM64DS, but I could always use a new model, too.
A Swim Through Nostalgic Seas
(Secret) Red Coins in the Secret Aquarium
---
Rolling Bowling Galaxy
A linear Rolling Ball Galaxy in which you will try to hit as many Pinheads as you can while navigating the tricky stage. Unlike the preview picture, the galaxy will not feature a daytime cloudy background.
Pinheads in Peril
Rampant Rolling Romp
---
Twisty Triumphs Galaxy (60% Complete)
Same concept as Twisty Trials, except this time with a brand new level design as well as another throwback in one galaxy! I'm almost done with the first star.
Time for a Twist
Red Coins in Double Time
---
Skyland Shore Galaxy
New Beachy open-world galaxy in which you will dive to find many collectibles. Inspired by Beach Bowl and Starshine Beach.
Star Chips by the Seaside
(Secret) Hungry for a Hundred
---
Poison River Galaxy (35% Complete)
A remake of the infamous Poison River from Super Mario Sunshine with Red Coins again! Yay! ...Except this time the pipe takes you back to the start of the level, NOT Delfino Plaza.
The Dangerous Raft Ride
Purple Coins on the Water
---
Thwompworks Galaxy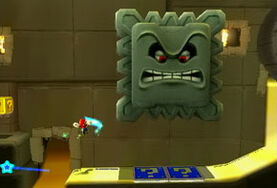 A level designed around Thwomps and their many brethren, Whomps, Bomps, Flomps, Tox Boxes, etc. The galaxy is a factory similar to Chompworks.
Thwompin' n Whompin'
Fast Foes in the Thwompworks
---
Flip-Over Galaxy
EDIT: This Galaxy will not be in the hack. Instead, it will be replaced by a Galaxy of a similar concept, more info later.
A galaxy with new ideas stemming from an existing concept (Reversible Platforms) By default, they reverse by jumping, but this changes in the comet mission...
Justification for Jumping
Flip to the Beep
---
Championship Galaxy (100% Complete)
The final, cruel Galaxy. Designed for a Master of the Galaxies. This one's already complete. But there's room for improvement.
The Cruel Cosmic Challenge
A Masterful Marathon